Welcome and thank you for visiting.

My name is Lea Schizas,

a multi-published, award-winning author and editor.
Thank you for visiting. My name is Lea and I absolutely love writing for children and the young adult age groups. I was a children's stylist close to 20 years and always connected with kids. This experience gave me the opportunity to hear some hilarious sayings from children which have helped shape many of my characters and their settings. I have five of my own and they can all vouch for my goofiness.
This page is dedicated to my newest children's publications, the first based on two fictional and very curious five-year old twins, Robbie and Katie, who find themselves in various situations and adventures in each book in the Robbie and Katie series.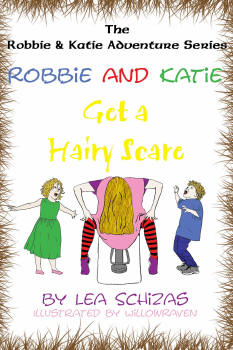 Robbie and Katie Get A Hairy Scare is a fun read about their first official visit to a hairdresser. Like so many parents who cut their own childrens hair, one day Robbie and Katie finally get to visit a hairsalon with thier older sister Marcie. What happens during their visit will put a smile on everyone's faces.
Now, in all honesty, I think it's fair to let you know I have twins. They are in their early twenties now but the adventures these two put me through while raising them is enough to stock a whole library.
In the making:
Robbie and Katie in Search of The Missing Teeth
Robbie and Katie Go To School
MY BLOGS: